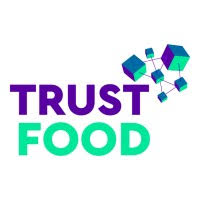 UBITECH participated at the kick-off meeting hosted by REZOS BRANDS in Patras, Greece (February 7-8, 2023) of the TRUST-FOOD Digital Europe project, officially started on January 1st, 2023. The project is funded by European Commission under Horizon Europe Programme (Grant Agreement No. 101100804) and spans on the period January 2023 – December 2025. TRUST-FOOD is an ambitious Digital Europe project that aspires to support the development of advanced digital skills of people in the labour force, with a particular focus on SMEs owners, managers, and employees, as well as on job seekers, by providing access to high-quality specialized training courses, reflecting the latest developments in the area of Blockchain technologies applied holistically to the Food Supply Chain.
In particular, TRUST-FOOD will design and deliver short-term training courses for upskilling and reskilling of the labour force, with a particular focus on SMEs owners, managers, and employees in the Food Supply Chain (FSC) sector. The courses will be highly practical and will provide specific knowledge about key digital technologies of Blockchain and their applications to the FSC. The courses will be also focusing on job seekers in the particular area. The courses will have different length, from one month to 6 months maximum.
The main types of courses will be: a) Courses for business' leaders or managers, to acquire advanced digital skills and competences related to blockchain and how they can be deployed to innovate, transform and expand their businesses, as well as forge trust in their relationships with other businesses and stakeholders in the field. b) Courses for employed people or job seekers to acquire advanced digital skills and competences of how to integrate blockchain technologies to relevant innovative digital tools in their daily work. Intensive seminars and workshops on specific business cases and aspects of blockchain for high-skilled workers in SMEs or job seekers (e.g., business case: blockchain for enhanced traceability of food products).
Within TRUST-FOOD, UBITECH develops a novel integrated software training system and the associated electronic educational material which will be delivered in the form of serious games. More specifically, the TRUST-FOOD integrated training system will be built with a modular architecture comprising three distinct sub-systems, which will offer distinct functionality but will be seamlessly integrated. The first sub-system (front-office) will provide GUIs for accessing the system and registering trainers/trainees, the serious games and digital educational content, and data visualization and analytics regarding trainings. The second (back-office) will manage data and algorithms and will offer AI/ML support for recommendations on the game-play and plot according to the trainee level, as well as Blockchain and token-based functionality. Finally, the third (mobile application) will provide a dedicated AR-enabled educational part.