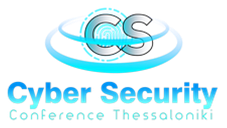 UBITECH participated at and sponsored, as a Gold Sponsor, the 1st Cyber Security Conference which was held in Thessaloniki on April 27, 2023. The conference concluded its actions having great success and attracted the interest of professionals and research scientists from the cyber security and cyber insurance domains. The attendance at the 1st Cyber Security Conference exceeded all expectations, with over 200 conference attendees, as well as 400+ online participants, who followed the keynote speeches and presentations from experts around cyber security and cyber insurance domains.
Among the conference experts, Dr. Dimitris Papamartzivanos, member of the Digital Security & Trusted Computing Group at UBITECH, gave a keynote speech under the title "Building Trust: From embedded devices to trustworthy AI", highlighting the core technologies developed by UBITECH in the field of Trusted Computing and Trusted Artificial Intelligence and informing the audience about the challenging threat landscape of the future highly interconnected world. His talk can be found here: https://www.youtube.com/watch?v=QRJWnkDOG1M
UBITECH's presence attracted the interest of the participants who had the chance to visit the physical and the virtual stands of the company and get informed about the innovative solutions and research projects being developed in-house. Among them, at the fore front of UBITECH's stand, the visitors had the chance to meet the CYSMET* platform, a solution that enables Integrated, Dynamic & Collaborative Risk Management System for Maritime Transport & Supply Chains, and AENEAS*, a Complete Solution for Maintaining Privacy and Control of Personal Data in the Provision of Personalized Services.
More details regarding the program of the 1st Cyber Security Conference and UBITECH's presence can be found in https://cybersecurityconference.gr/.
UBITECH looks to the future and keeps investing to innovative solutions that will guarantee a brighter and safer future for the digital world. In this context, UBITECH's participation and sponsorship to the 1st Cyber Security Conference was a great opportunity to communicate the company's Research and development actions to professionals of the cyber security domain, exchange ideas with experts, and inform users about the cyber security challenges of tomorrow.
*This research has been co‐financed by the European Regional Development Fund of the European Union and Greek National funds through the Operational Program Competitiveness, Entrepreneurship and Innovation, under the call RESEARCH – CREATE – INNOVATE. CYSMET project code: T2EDK-03488, AENEAS project code: Τ2ΕDΚ-03425.